Description
INTRODUCTION
Owl is a 118mm brushless FPV proximity quadcopter frame with integrated 3 inch propeller protection, designed to be safe proximity indoor and park flier with support of wide variety of equipment and great mounting options.
FEATURES
Integrated propeller and equipment protection
Ability to mount motors facing up or down
Ability to use wide variety of motors like 1105, 1306, 1407
Ability to use virtually any VTX and to mount it on top or bottom plate
Ability to mount battery on top or bottom
Many mounting holes which help to keep all wires together for the clean and beautiful build
Mounting holes for popular flight controllers like Naze32, CC3D and other boards that use 30.5mm distance between holes
Ability to fly with GoPro on 3S batteries with high discharge rating (slow flier) and 4S batteries
Facing down RCX 1105 motors: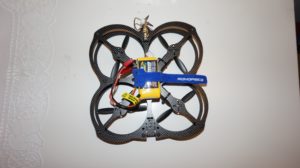 Facing up DYS 1306 motors (Owl version 1):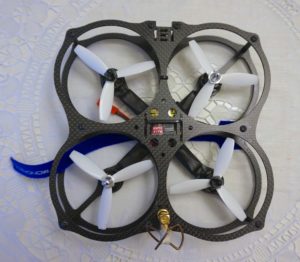 DESIGN CONSIDERATIONS
Owl Frame consists of two plates with the same pattern of mounting holes to allow flexibility of the choice of where you want to mount your equipment. It allows you to mount motors facing up or facing down, to mount VTX on the top or bottom plate, it really depends on your imagination and allows you to create uniquely looking quadcopter.
Owl Frame has many mounting holes which allow you to tie all the wires together, so they won't stand in the way of propeller and make your build look clean and beautiful.
Owl Frame uses optimal amount of material to be as light, as small and as strong as possible.
It is designed with ultimate flexibility in mind!
WHY DO YOU NEED IT?
Easiest way to learn FPV without worrying too much
To be sure that you won't hurt anybody with propellers, as they can cause pretty serious injuries
To be able to fly inside of the house without damaging furniture
To protect quadcopter equipment and save money on propellers, because everything is deep inside of the cage
It is designed around popular 3 inch propellers format, which lets you use wide variety of equipment and helps to save you money
WHY OWL HAS BEEN CREATED?
As many of you, I've started from 250mm quadcopters, just because it was the smallest quadcopter you were able to get at some point. I quickly realized that it is not what I needed, because it was not really small, it was scary dangerous for surrounding. Well, forgive me, but I can't drive outside of the town too often to fly this strong and scary machine and in the area where I live, kids are playing everywhere. At home, with my level of flying skills, you will either break everything around or cut somebody's head off. So I've got prop protectors for it, but whoever designed them didn't realize that you will need to protect propeller from top and bottom, because otherwise it won't really have the effect you need. So, my experiment has failed and this quadcopter was mostly collecting dust on the shelf.
Then I came across 1104 motors and Atom and immediately thought that this is what I need! To my quick disappointment I was buying hundreds of propellers every month, which is not environment and wallet friendly, and frankly annoying.
Then I came across RS90 and loved it (still love) so much, I thought that this is probably what I was looking for. But unfortunately it missed some of the qualities which my Atom had as for example you can't fly with GoPro camera, it has relatively weak throttle response on 2S batteries (it is way better on 3S batteries) in comparison to what I've got used to, inability to use cheap and good motors on it. But then 3S battery wears out these DP03 motors very quickly and they are really fragile in general.
It made me think that it would be great to have something like this but for more common, as of now, 3 inch propellers standard. I've asked around and nobody was offering any solution at this time.
I've figured that I'll have to design something by myself It took me some time to refresh my AutoCAD skills.
While I was figuring it all out, new frame with the name "Butters" appeared and I thought oh, great, now I can just buy and use it instead, but then, after I saw if for the first time, I quickly realized that it won't work for me as it didn't provide enough of mounting flexibility for quadcopter equipment and looked super heavy.
Well… I guessed, that I would actually have to try make something myself then. After all, this hobby is about research and development. Isn't it? 🙂
VIDEOS
Buy more and save
from 5 pcs.
from 10 pcs.

USD $

70.99

USD $

67.44

USD $

70.99

USD $

66.02
Got questions?
I'm constantly working on improving Owl frame design and your participation in the community of users can greatly help everybody, especially you!
Please check out Owl frame RCGroups thread