Description
Frog is a beautiful 122mm brushless racing quadcopter frame designed to be used 3 inch propellers. Frog frame features integrated motor protections in the form of frog fingers. It supports a wide variety of equipment and great mounting options.
FEATURES
Integrated motor protection
Ability to use wide variety of motors like 1105, 1306, 1407
Ability to use virtually any micro VTX
Ability to mount battery on top or bottom
Many mounting holes which help to keep all wires together for the clean and beautiful build
30.5×30.5 Mounting holes
Included integrated adapter to 20x20mm mounting holes
12mm x 12mm camera mounting holes pattern, for camera holders like Diatone
Included 25mm tall mount for 19mm wide Micro FPV cameras such as Foxeer Predator
WHY DO YOU NEED IT?
Great looking frame
Very compact design
Ability to easily use wide range of equipment
Great protection for your motors
Optimal strength and performance
DESIGN CONSIDERATIONS
Frog Frame consists of two plates with the optimal pattern of mounting holes to allow flexibility of the choice of how you want to mount your equipment.
Battery strap mounting holes don't stand in the way of PDB which allows you to use PDB without any spacers and keep profile of the frame as low as possible. It supports any motors from 1105 to 1407.
Bottom plate allows you to use Diatone camera mount with 12x12mm M2 holes pattern. It supports Flight Controller of the standard size as well as narrow FC. It has very good looking motor protection in the form of frog fingers.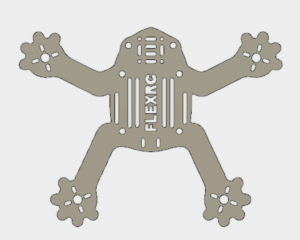 Top plate allows you to adjust camera angle, you can use different kind of straps to mount GoPro, Mobius or RunCam camera. You can mount battery on top as well. It allows you to screw FPV antenna or hold it with zip ties. It has VTX cut which would work for virtually any FPV transmitter.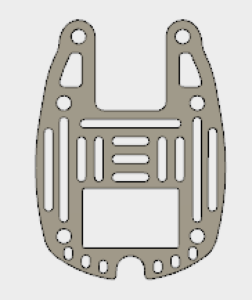 VIDEOS
Package includes
Contents has been updated on 2018-05-10 to:
5pcs of M3 25mm standoffs
2pcs of M3 25mm camera mount
1pcs of TPU front bumper
M3 30.5×30.5 to M2 20×20 adapter
10pcs of M3 8mm screws
I'm constantly working on improving Frog frame design and your participation in the community of users can greatly help everybody, especially you!
Please check out Frog frame RCGroups thread
Buy more and save
from 5 pcs.
from 10 pcs.

USD $

20.00

USD $

19.00

USD $

20.00

USD $

18.60