Description
Box Quantity:
16pcs/box
The Gens ace 11.1V 60C 3S 5000mAh Lipo Battery Pack provides all the wild power you need for your rc cars, just the perfect size, ideal weight, help you win all the attention in the RC track. The 60C true rate gives you enough power for acceleration, it is all about the speed. For convenience, there is an extra female XT60 plug inside the box for free. And the 5000mah 11.1v lipo battery provides your batteries very solid protection.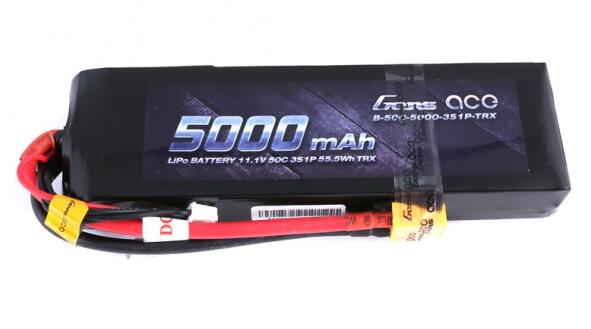 Tip: 
1.This battery length (155mm), could not fit most cars with smaller battery tray, such as rustler, stampede, Bandit, etc. if you want to find a shorter one: here is 5000 3s short-size battery with dimensions: 138mmx46mmx38mm. 
2.This a battery could be used for most 1/10 Traxxas truck, but it comes with xt60 plug and deans plug, not Traxxas plug, so you need to solder the plug or change the adapter for your Traxxas model.
3.If you use the 5000mAh 3S lipo battery for Arrma new items, such as BIGROCK 4×4 3S BLX or GRANITE 4×4 BLX, you need to go arrma battery category. 
Features:
– Stable automatic stacking technology enables single-cell capacities of 5000mAh.
– The most strict single cell capacity, voltage, resistance, discharge curve matching process.
– Superior Japan and Korea Lithium Polymer raw materials.
– The battery is with male XT60 plug.
– One extra female XT60 plug inside the box for free.
Gens Ace is one of the top rank battery corporations with deep research and manufacturing on NIMH, LI-PO, LI-FE by the effort of 200 professional engineers and technicians with 20 years exquisite battery technology. The Gens Ace brand holds the traditional concept of "excellent quality", "Optimization"& "Priority" on Sales & Services. All batteries are tailored for various scales of the RC Models such as electronic cars, nitro cars, airplanes, vessels and also other models, toys, electric tools, electric bikes, electric autos, digital products etc.
Specifications:
– Minimum Capacity: 5000mAh
– Configuration: 3S1P / 11.1V / 3Cells
– Discharge Rate: 60C
– Max Burst discharge Rate: 100C
– Net Weight(±20g): 380g
– Dimensions: 155.3mm x 46.3mm x 24mm (L x W x H)
– Charge Plug: JST-XHR
– Discharge Plug: Male XT60 plug
– One extra female XT60 plug inside the box for free.
– Standard Balance Plug + Equipped with industry-standard XT-60.
Applications: (sourced from customers' reviews)
Traxxas: 
Traxxas Slash 4×4 upgrade( 30-40 min at the track non-stop)
Fits a Traxxas Slash 4×4 LCG and Arrma Vorteks with no problems. 
Huge power in my 2wd slash
Used on Traxxas Xmaxx as a dual 6S and get about 35-30 min with heavy bashing/driving.
I use them in a Traxxas XMAXX and a Traxxas Aton. No problems 
Works perfectly with my Trx-4.
Excellent battery and no issues using it in my Slash VXL. Clean soldering and heat shrinking. Would recommend over the Traxxas lipo.
I use them for my Traxxas Stampede VXL. The battery is a bit too long for the battery tray, but I made it fit.
HPI: 
This pack has great punch and lasted over 40 minutes doing standing backflips and speed runs with a Savage XS. It wasn't easy getting it to fit in. It's way better suited for bigger vehicles.
Arrma:
e-revo savage flux or my arrma talion
I am currently using 2 of these 11.1v 5000mah batteries in my arrma outcast a so so good
works great in my Arrma Nero and Arrma Typhon
Axial:
Great battery on the yeti xl. Lasts a long time and is still going strong.
Drone:
DJI F550 Confident performance and no puffing after 3 months of daily use.
Fit nice and snug in the battery compartment of the Traxxas Aton drone. and it has done great. I've got over 100 flights on it and it's still going strong. 
perfect for my HeliMax Form 500 drone. Price is good. So far, the quality is satisfactory. 
I'm using one on a 500mm, 2212 920kv, 1185 gram scratch-built quad.
It works perfectly in a frame f450.
Boat:
run them in my M41 Widebody
I use them in both my vxl slash (3s) as well as my DCB M41 Catamaran boat (6s). 
Used in hydroplane boat, These packs are very light…very powerful and I get longer run times as opposed to the other packs.
Others:
1/5 sand rail
Our Advantage:
1. Your orders will be dispatched via FedEx or USPS from the USA directly. 
2. Fast shipping and excellent local after-sale service guaranteed in the USA. 
3. Service-priority in the online shop, like the long warranty period and the lower price. 
4. Energy Density:Specially adapted to each UAV type and RC car/boat/heli type. Very High according to capacity/weight. In fact, we are specialists in High Power Lipo Batteries. It is our unique technology, the highest power of our battery is 100C. Another technology is our batteries are able to be stably discharged simultaneously 
5. Low IR: Provides stable voltage until the end of your mission 
6. Safety: Gens Ace and its' partners fulfill the ISO9001, ISO14001, standards
7. See the battery instruction to the link: Lipo Battery Guide 
About arrma BIGROCK 4×4 3S BLX battery and GRANITE 4×4 BLX battery, check the link above.