Description
Box Quantity:
36pcs/box
Features:
– Remarkable stacking technology enables single-cell capacities of 800mAh.
– High discharge rate and high reliability
– Small in size and light in weight
– Standard Balance Plug + Equipped with industry-standard JST-SYP-2P Plug
Gens Ace is one of the top rank battery corporations with deep research and manufacturing on NIMH, LI-PO, LI-FE by the effort of 200 professional engineers and technicians with 20 years exquisite battery technology. The Gens Ace brand holds the traditional concept of "excellent quality", "Optimization"& "Priority" on Sales & Services. All batteries are tailored for various scales of the RC Models such as electronic cars, nitro cars, aero planes, vessels and also other models, toys, electric tools, electric bikes, electric autos, digital products etc.
Specifications:
– Capacity: 800mAh
– Voltage: 11.1V / 3S / 3 Cell
– Discharge Rate: 40C
– Max Burst Discharge Rate: 80C
– Weight: 72g
– Size: 52mm x 30mm x 23mm (L x W x H)
– Connector Type: JST-SYP-2P
Applications:
GensAce 800mAh 3S 40C lipo battery provide high quality, reliable power for 250 class heli, 800mm Warbirds and Eflite Blade CP/CP Pro., and it's perfect for the eFlite Mini Convergence.
Application list:
Align T-REX 250 RC Helicopter (KXO019011T)
Blade 200 SR X with SAFE (BLH2080)(BLH2000)
Blade 230s (BLH1580)/(BLH1500)
Blade CP Pro RTF Electric Micro Helicopter (EFLH1300)
Oxy 2 210 PRO
dynam RAPID 635MM (25″) WINGSPAN – PNP
Mini Convergence VTOL BNF Basic, 410mm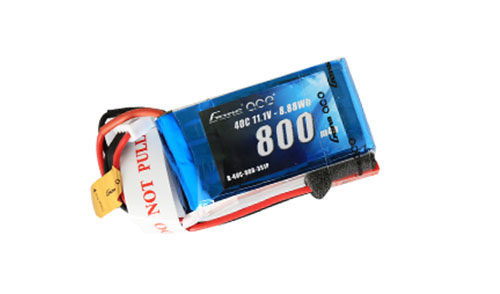 Battery comment:
"Good battery for the 250 class heli. I run these in my Trex 250 with the stock power system. The Gens Ace packs perform well to 4:15 of hard flying. They fly just as good as my higher priced packs with a higher C rating. 40C is underrated in these packs they are one of my favorites." —For Gensace user
 Our Advantage:
1.Your orders will be dispatched via FedEx or USPS from the USA directly. 
2.Fast shipping and excellent local after-sale service guaranteed in the USA. 
3.Service-priority in the online shop, like the long warranty period and the lower price.
4.Energy Density:Specially adapted to each UAV type and RC car/boat/heli type. Very High according to capacity/weight. In fact, we are specialists in High Power Lipo Batteries. It is our unique technology, the highest power of our battery is 100C. Another technology is our batteries are able to be stably discharged simultaneously 
5.Low IR: Provides stable voltage until the end of your mission 
6.Safety: Gens Ace and its' partners fulfill the ISO9001, ISO14001, standards
7.See the battery instruction to the link: Lipo Battery Guide