Description
Box Quantity:
32pcs/box
Funfly, the new lovely member of Tattu family, specially designed for daily training and freestyle. Are you tired of the pressures of the racing scene? All you need is to find a nice quiet spot at a local park or any open area to start your training. With its stable performance, you can concentrate on your flips, rolls and power loops and perfect your flowing freestyle lines.
Fun is fly. From now on, get rid of the pressure and do not care about what others say, good or bad, positive or negative, just wear your flying devices and start your own freestyle.
Tattu Fun Fly 1550mAh 4S 100C lipo battery with high quality and high rate at a very affordable price on our Tattu Official shop.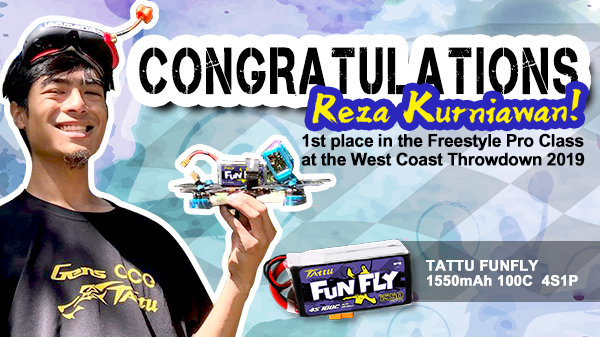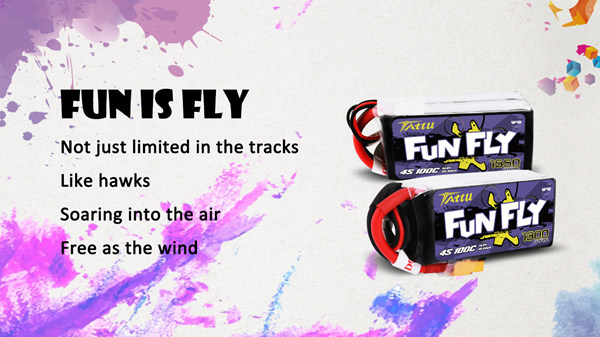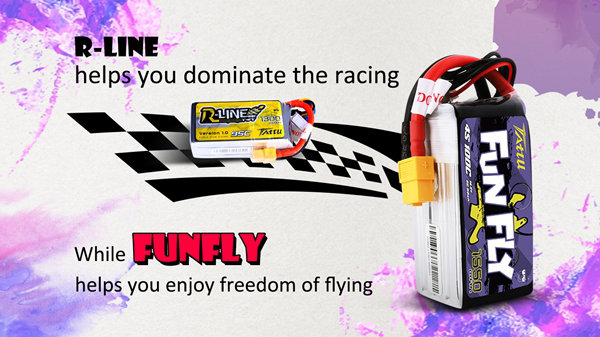 Features:
– Stable automatic stacking technology enables single-cell capacities of 1550mAh.
– Higher capacity than comparable size packs
– Local after-sales service (located in Dublin, CA)
– The high rate of 100C, Max Burst discharge Rate 200C.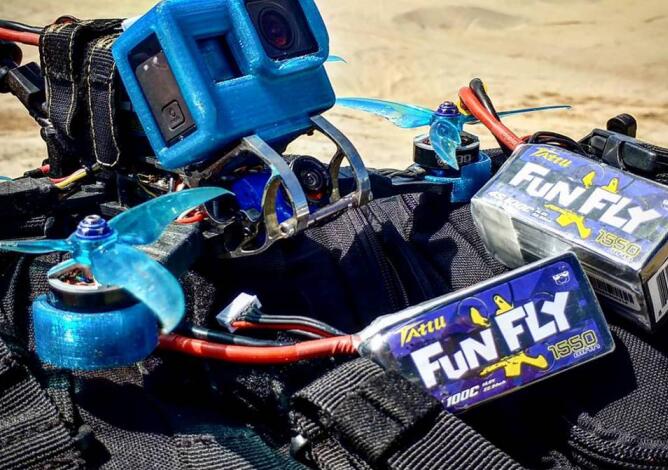 Specifications:
– Minimum Capacity: 1550mAh
– Configuration: 4S1P / 14.8V / 4 Cells
– Discharge Rate: 100C
– Max Burst Discharge Rate: 200C
– Net Weight(±20g): 178g/unit
– Dimensions: 72mm Length x 35mm Width x 36mm Height 
– Charge Plug: JST-XHR
– Discharge Plug: XT60
Free Shipping:
Individual customer, Free shipping over $49 to USA (Exclude AK&HI&GU). Free Shipping does not include Hazmat fees.
Our Advantage: 
1. Your orders will be dispatched via FedEx or USPS from the USA directly. 
2. Fast shipping and excellent local after-sale service guaranteed in the USA. 
3. Service-priority in the online shop, like the long warranty period and the lower price. 
4. Energy Density: Specially adapted to each UAV type and RC car/boat/helicopter type. Very High according to capacity/weight. In fact, we are specialists in High Power Lipo Batteries. It is our unique technology, the highest power of our battery is 100C. Another technology is our batteries are able to be stably discharged simultaneously .
5. Low IR: Provides stable voltage until the end of your mission 
6. Safety: Gens Ace and its' partners fulfill the ISO9001, ISO14001, standards
7. See the battery instruction to the link: Lipo Battery Guide.