Description
Box Quantity:
16pcs/box
Gens Ace is one of the top rank battery corporations with deep research and manufacturing on NIMH, LI-PO, LI-FE by the effort of 200 professional engineers and technicians with 20 years exquisite battery technology. The Gens Ace brand holds the traditional concept of "excellent quality", "Optimization"& "Priority" on Sales & Services. All batteries are tailored for various scales of the RC Models such as electronic cars, nitro cars, airplanes, vessels and also other models, toys, electric tools, electric bikes, electric autos, digital products etc.
Features:
 Stable automatic stacking technology enables single-cell capacities of 5700mAh.
 The most strict single cell capacity, voltage, resistance, discharge curve matching process.
 Superior Japan and Korea Lithium Polymer raw materials.
Application:
Gens Ace 5700 2s saddle lipo battery pack provide high quality, reliable power and is suited to 1/8 & 1/10 RC car model such as Losi 22-4 RACE 4WD BUGGY, RC10T5M Team Kit. EFRA approved. The new packaging of Gens Ace 5700mah 2s3p 50c, which is of high safety and high reliability. It is the upgraded version and more stable than before.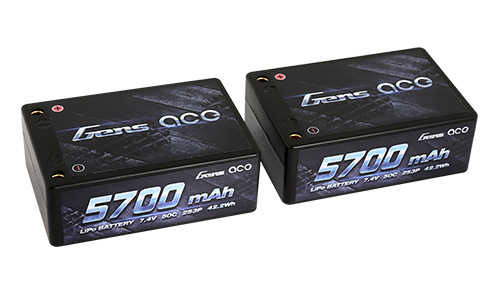 Battery Comments:
very happy with pack took a long time to get here though,after that I was good to go, for a while one of the second set of cells was acting weird, but that's all gone away now, they perform great, safer than before, just have to break them in first from what I read, great punch and runtime, I run it in my 1/10 RC car model….perfect for the yard. If your thinking about ordering one go for it, just break them in and you should be fine." said Fans.
Our Advantage: 
1.Your orders will be dispatched via FedEx or USPS from the USA directly. 
2.Fast shipping and excellent local after-sale service guaranteed in the USA. 
3.Service-priority in the online shop, like the long warranty period and the lower price.
4.Energy Density:Specially adapted to each UAV type and RC car/boat/heli type. Very High according to capacity/weight. In fact, we are specialists in High Power Lipo Batteries. It is our unique technology, the highest power of our battery is 100C. Another technology is our batteries are able to be stably discharged simultaneously.
5.Low IR: Provides stable voltage until the end of your mission.
6.Safety: Gens Ace and its partners fulfill the ISO9001, ISO14001, standards.
7.See the battery instruction to the link: Lipo Battery Guide 
WARNING: This product can expose you to chemicals including nickel, which is known to the State of California to cause cancer and birth defects or other reproductive harm. For more information  go to www.P65Warnings.ca.gov.