Reposted from RCGroups.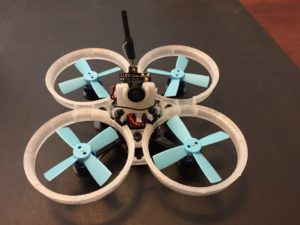 Just a few weeks after getting my first quad, a 5" racer, flying, I started looking into indoor micro FPV quads. Since then, I've built and flow…and HATED…8 different designs. But after all those disappointments, I've finally found one I LOVE: The FlexRC Pico Owl v2.
The Pico Owl v2 is my fourth brushless micro and easily the best of the bunch. I've tried a DJ105 — good design but the 3D printed frame was too flexy. Also Tomoquad Swift didn't work for me as I wanted. But I can't find a significant flaw in the Pico Owl and I think my search is finally over.
The Frame
The Pico Owl is the smallest in the Owl family of quads from FlexRC. It's a minimalist design that builds and flies wonderfully. While I love to build quads, I prefer 5" quads to micros because of the extremely tight spaces. But the Pico Owl was the first true micro that I can honestly say was a joy to build.
The frame consists of a 2mm thick carbon fiber main plate, a very well printed nylon prop guard, and a basic mount for a standard AIO micro cam/vtx. Oddly, there is no hardware included. While most of us have bins full of nylon hardware, I think it would have been nice to include at least some standoffs, nuts, and screws for the prop guard.
Both the main plate and the prop guards are extremely well designed. The main plate is unique in that it is sized and drilled to mount either 20×20 components or 32×32. Very ingenious! But it gets better. A 20×20 FC and ESC mount straight on the frame instead of the standard 45 degree mounting you see on other designs. This keeps the wiring well out of the way of the props. And if you're not running a 32×32 FC, the holes that you'd normally use to mount it double as mounting holes for the prop guard. Again, very ingenious design!
The prop guard is one of the best 3D prints I've ever seen. It's printed from nylon so it's both strong and flexible. It has significant ducts, much like a stock Inductrix frame and does a great job of protecting the props and preventing crashes. I've had some high speed, direct crashes into the wooden columns in my living room and the quad didn't flinch. Nylon is the perfect material for prop guards and it's a shame more frame designers don't use it.
One more great thing about the prop guard: It can be mounted and removed without touching any other component! No need to disassemble the quad!
The Build
Frame: Pico Owl v2
Flight controller: FuriousFPV Pico BLX
ESC: Cicada 4-in-1 6A
Motors: Racerstar 1103 10000kv
Receiver: FrSky Ultralight XM (Banggood)
Props: Racerstar 2035 50mm 4 Blade ABS (trimmed to 1.8")
Camera/VTX: AKK BS2 5.8G 48CH 25mW VTX 600TVL 1/3 Cmos AIO
Batteries: Airblade UAV 450mah 30C 2s w/ XT30 connector
Build weight: 53.5g
AUW: 85.2g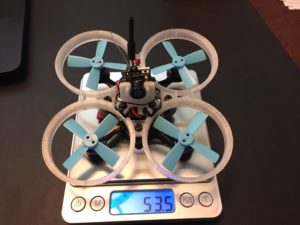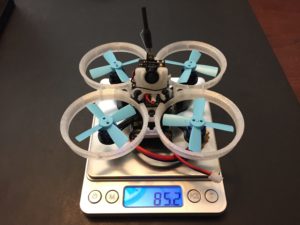 Assembly was fairly straightforward. I had to use a needle file (the one that came with my ImpulseRC Alien was perfect) to ovalize the motor mount holes a bit as the Racerstar 1103's have a slightly smaller bolt pattern. It literally took about 10 seconds of filing per hole before they fit fine. I used two screws per motor.
I mounted everything on top of the main plate using short nylon screws and nuts to lift the ESC up a few centimeters. I then used 6mm nylon standoffs for the rest of the stack. The Cicada 4-in-1 is designed for M2 hardware but I used M3 instead. It all fit fine but I had to trim some nylon washers to give the FETs nearest the mounting holes some room.
Finally, I used a nail clipper to trim the props to about 1.8". I could have gone to 1.9" by my nail clipper has a pin in it that that made it easy to get a consistent cut at 1.8".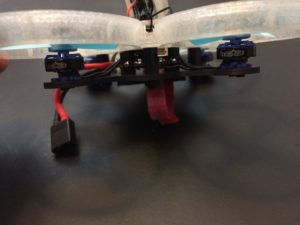 Flying
It flies great. With stock Betaflight PIDs and my normal 5" quad rates (1200 deg/sec at max stick), it was perfect for indoor proximity. It hovers at about 50% throttle, which is right where I like it for indoor, but it has SO much more punch than a Tiny Whoop that it's much more fun to fly. I hear all the time that even the smallest, lightest brushless micro is too big, too fast, and too heavy for indoor flying. I disagree. Even though it's 4x as heavy as a Tiny Whoop, it's great for indoors.
Let's talk power. One of the problems I have with Tiny Whoops — and don't get me wrong, I think they're great — is the lack of power when inputting yaw. A heavy yaw turn puts my whoop into carpet. I'm upgrading to faster motors but the tradeoff will be shorter flight times. The Pico Owl, however, doesn't have this problem.
With plenty of punch to maintain altitude in any turn, this little quad is a TON of fun. On my maiden flight, I was able to split-s over the catwalk that extends over my foyer and had plenty of power to recover. I can easily roll and flip at a hover in my living room without bouncing the ground.
Note that the Pico Owl is noticeably louder than a brushed micro. While it's not 5"-quad-loud, I'm not going to be flying it while my wife and kids are trying to watch TV upstairs. This isn't a problem with the frame, obviously, but more an issue of running 4-bladed props at 74,000 rps in a ducted prop guard.
All that is good and well but let's talk about where the Pico Owl v2 really shines: Durability. The nylon printed prop guard is the best I've seen and allows you to soft bounce off obstacles without crashing.
While I don't think brushless quads are "Tiny Whoop Killers" quite yet, the Pico Owl v2 is the closest I've found. It's small, durable, a joy to build, and reasonably priced. My search for a micro I like has finally ended!
Pros
20×20 FC and ESC mount straight, not rotated.
Best prop guard I've ever seen
Can run a 36×36 if you want
Prop guard mounting design
Ease of build
Simple, effective AIO camera mount
Weight
Price
Cons
No hardware included
Motor mount holes are round, not slotted and need a bit of filing for Racerstar 1103 motors
Must trim 2" props to run prop guard (although that problem is completely eliminated with the new HQ 1.9″ props!)