Description
Features
Material: Clear plastic
Color: White
Diagonal motor to motor distance: 75mm
Motor mounting hole: only for BETAFPV 1103 motors
FC mounting hole: fully compatible with whoop style FC board mounting pattern, 26mm x 26mm
Battery slot size: 11.5x16mm, for BETAFPV 300mAh battery
Weight: 7.3g
RECOMMENDED PARTS
Propellers: 40mm 4-blade props (1.5mm shaft hole)
Motors: 110x brushless motors, like 1103 11000KV motors
Battery: 3S 300mAh Battery / 2S 300mAh Battery / 2pcs 1S 300mAh Battery
FC & ESC: BETAFPV 2S Whoop FC stack
This Beta75X frame is customed for 75mm brushless whoop drone. This frame natively support 110x motors. Also it has a customed battery slot to support 2S battery and you could modify it easily by cut out the stickers to fit 3S 300mah battery. The FC mounting columns still match the whoop style FC boards. At the same time, we would like to keep it durable and light enough for a whoop beast. Come with plastic durable package, which can protect the package from deformation during the shipping process.
BATTERY SLOT
In default, the battery slot is designed for 2S 300mAh battery. If you already have many 1S whoop batteries and want to use the them on the this frame, what shall we do?
As show below, with the help of form adapter, 2pcs 300mAh Lipo HV 1S whoop style batteries are inserted in the slot suitably. Don't forget to get a double PH-JST 2.0 connectors power cable here.
But we highly recommend the newest 300mAh 45C batteries for this small beast.
We DO NOT recommend the 1103 11000KV motors for 3S power because the motor may overheat or burn which will cause permanently damage on the motor or ESC. And don't use 1103 8000KV motors for 2S power, the performance will be not as good as the 1103 11000KV motors since lack of power.
Note: Please kindly cut out these three sticks ① ② ③ (check picture 5) by using the scissors as the following picture to fit the 3S 300mah Battery, be carefully not to cut the wire of the receiver.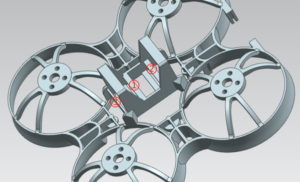 Package Includes
1x Beta75X 2S Whoop frame (White)