Description
Gens ace 520mAh 11.1V 30C 3S1P Lipo Batteries offers you an excellent combination of weight, power, and performance.
These batteries are fit to all small Foam Planes Wing size up to 60cm and Drones with 2s and 3s Motor 100-120 Size.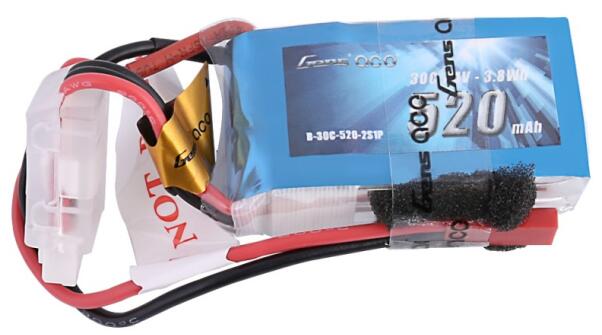 Features:
– Stable automatic stacking technology enables single-cell capacities of 520mAh.
– Superior cell matched the consistency.
– Automatic production line to guarantee high quality and consistent performance.
– Gens Ace batteries provide high quality, reliable power for your Rc models.
– Local after-sales service(located in Dublin, CA).
 Specifications:
– Minimum Capacity: 520mAh
– Configuration: 3S1P / 11.1V / 3Cells
– Discharge Rate: 30C
– Max Burst Discharge Rate: 60C
– Net Weight(±5g): 45g
– Dimensions: 45mm x 24mm x 22.5mm (L x W x H)
– Balancer Connector Type:JST-XHR
 Compatible with:
Gens ace 520mAh 11.1V 30C 3S1P Lipo Battery Packs are Equipped with industry-standard JST-SYP plug, compatible with LiPo balance chargers for your small Foam Planes Wing and RC models.
Our Advantage:
1.Your orders will be dispatched via FedEx or UPS from the USA directly. 
2.Fast shipping and excellent local after-sale service guaranteed in the USA. 
3.Service-priority in the online shop, like the long warranty period and the lower price. We do offer a 90-day-warranty after your order date. 
4.Energy Density:Specially adapted to each UAV type and RC car/boat/heli type. Very High according to capacity/weight. In fact, we are specialists in High Power Lipo Batteries. It is our unique technology, the highest power of our battery is 100C. Another technology is our batteries are able to be stably discharged simultaneously 
5.Low IR: Provides stable voltage until the end of your mission 
6.Safety: Gens Ace and its' partners fulfill the ISO9001, ISO14001, standards
7.See the battery instruction to the link: Lipo Battery Guide.
WARNING: This product can expose you to chemicals including nickel, which is known to the State of California to cause cancer and birth defects or other reproductive harm. For more information, go to www.P65Warnings.ca.gov.